Our annual celebration of all things fantasy is back this May, and your Wyrd and Wonder hosts have been concocting ideas to tantalise you with. If you're looking for inspiration and/or want to join in with some group fun, come see what we are planning…
Read-alongs
We love sharing some of our favourite reads so as usual we will be hosting read-alongs for our fifth Wyrd and Wonder. Wood is symbolic of a fifth anniversary, so our picks reflect two different forest fantasies.
Lisa will be your host for The Darkest Part of the Forest by Holly Black, a stand-alone YA fantasy in a world where humans and Fae live side by side. As kids, Hazel and Ben played at being knight and bard defeating monsters; when the mysterious horned boy who has slept in the woods for generations awakens, they will need to remember how to be heroes. But life is never as simple as childhood games…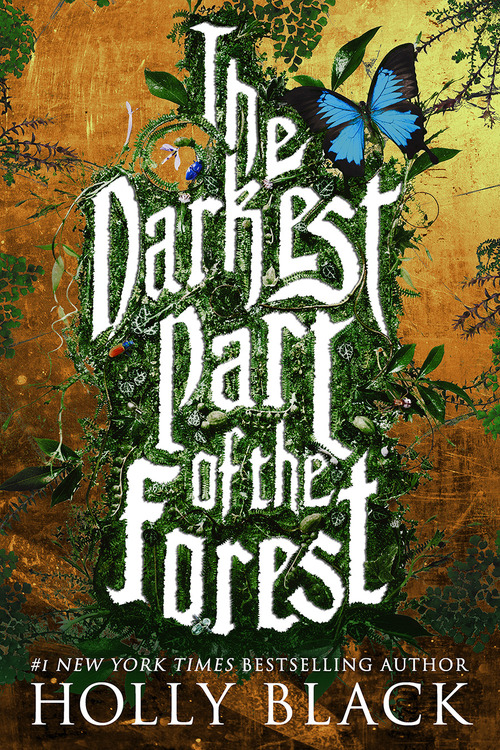 imyril will be your host for The Summer Tree by Guy Gavriel Kay, an epic portal fantasy merging Celtic and Norse mythology. Five students are magicked to Fionavar, first of all worlds, for the High King's anniversary. Dark omens suggest a dangerous god is breaking free of his age-long prison, but the King is reluctant to sacrifice at the Summer Tree to secure the land's future. If Fionavar falls, darkness will spread across every other world; unless the five and their new friends can stop it.
Note: The Summer Tree is the first of a trilogy; other read-alongs or buddy reads will follow during the year for those who wish to complete the journey.
A read-along spans the full month, with a set of chapters to discuss each week to keep us roughly at the same point or at least avoid spoilers for slower readers. Discussion schedules will be published next month. If you would like to join us and/or host a week (set that week's discussion questions), get in touch with Lisa or imyril – or add a comment on this post – to let us know.
---
Fantastic Top Fives
As it's our fifth birthday this year, we're all about the power of five! We've come up with weekly prompts to share some top fives each weekend. We'll tackle them in order, but if you fancy joining in the fun feel free to do whichever topic(s) you fancy whenever the mood takes you:
Top Five Fantasies Since Last Wyrd & Wonder
A year is a long time in reading – what amazing fantasy titles have you enjoyed since last May? If you've been on a fantasy-light reading diet recently, how about five books you read during previous Wyrd and Wonders; or five fantasies that have been released since last May that you really want to read?
Top Five Forest Fantasy Recs
Wood is symbolic for a fifth anniversary, so we're all about forest fantasy this year. What books would you recommend that suit our theme? It could be woodland settings, forest creatures, a particular focus on trees – or maybe even important wooden items and artifacts. Go wild!
Top Five Books Featuring Our Wyrd & Wonder Mascots
We've had five gorgeous mascots so far: dragon, phoenix, pegasus, raven and wolf. Share some favourite books that feature (one of) these beauties on the cover, as a character or as part of the world-building. Mix and match mascots or focus a top five on your favourite.
Top Five Single-Serve Fantasy Reads
Time to celebrate shorter reads – what are your favourite fantasy zines, anthologies, individual short stories, novelettes or novellas?
Top Five From a Favourite Fantasy Subgenre
Pick a fantasy subgenre you love and share some of your favourite books within it. What makes this subgenre so beloved for you?
---
Prompt Challenge
The Wyrd and Wonder challenge is back with 31 prompts to inspire you throughout the month. We like to keep things casual and have fun: you can pick a few prompts or go all-in and do something for each of them. How you use them is up to you! Some of us will share pics of books that match the day's theme on Instagram or Litsy. Others will write blog posts or Twitter threads, or combine a bunch of the prompts to use as tags. They might just help you pick what books to read next. Whatever you do, tag your content with #WyrdAndWonder so we can come enjoy it.
Day
Prompt
May 1
Best laid plans (your Wyrd and Wonder TBR)
May 2
Can't wait to read
May 3
Enchanted wood #TropeTuesday
May 4
Woodland creatures
May 5
5 star fantasy reads
May 6
Mythic fantasy (celebrate a subgenre)
May 7
Say what? (fictional languages)
May 8
Undergods
(minor deities, demi-gods and divine helpers)
May 9
#MapMonday
May 10
Don't leave the path #TropeTuesday
May 11
Weapon of choice
May 12
Step into another's shoes
(what character would you be?)
May 13
Epic fantasy (celebrate a subgenre)
May 14
A book within a book
May 15
#ShelfieSunday
May 16
Current read
May 17
Spirit of nature #TropeTuesday
May 18
Fantasy landscapes
May 19
More than meets the eye (shapeshifters)
May 20
Dark fantasy (celebrate a subgenre)
May 21
#StackSaturday
May 22
Bite-size delights (novellas or short stories)
May 23
Book rainbow
May 24
Forest guardian #TropeTuesday
May 25
Love it or loathe it (cover art tropes)
May 26
#ThrowbackThursday
May 27
Portal fantasy (celebrate a subgenre)
May 28
Imaginary verse (poems or songs from books)
May 29
Spine poetry
May 30
Wyrd and wonderful (a book you read because of a Wyrd and Wonder rec)
May 31
Fave Wyrd & Wonder read
Not sure what a prompt means? Check out the hints / supporting notes in the master schedule.
---
Master schedule
As usual, we have set up a Wyrd and Wonder master schedule to help keep track of everything. We have added details of the prompts, challenge and read-alongs already – you are invited to add links to your Wyrd and Wonder posts in May. Add links in advance if you're super organised, or add them when your posts go live and we'll share them on Twitter and in the weekly Quest Logs to ensure you aren't shouting into the void.
Join the party
Not sure what this is all about? Find out all about Wyrd and Wonder.
If this all sounds like fun and you're wondering how to take part, it's easy! Sign up to join the party and we'll look forward to sharing our love of all things fantasy with you through May. Signing up isn't an obligation, it just lets us know to expect you and hopefully gives you something to look forward to. Plus if you sign up and make a post before May 7, you can enter our sign-up giveaway for a chance to win books!
What books? It is a mystery. Just kidding, we're a little disorganised and haven't announced them yet, so keep an eye out here at There's Always Room For One More and over at Dear Geek Place or watch out for an update on Twitter (@wyrdandwonder).
---
IMAGE CREDITS: tree wolf image by chic2view on 123RF.com
Note: the gorgeous tree wolf is not royalty-free, but is licensed for use to promote Wyrd and Wonder online. You are welcome to use the banner on your Wyrd and Wonder posts, but please make no changes (except to resize if needed) and always credit the artist!